Our Websites Are Fully Responsive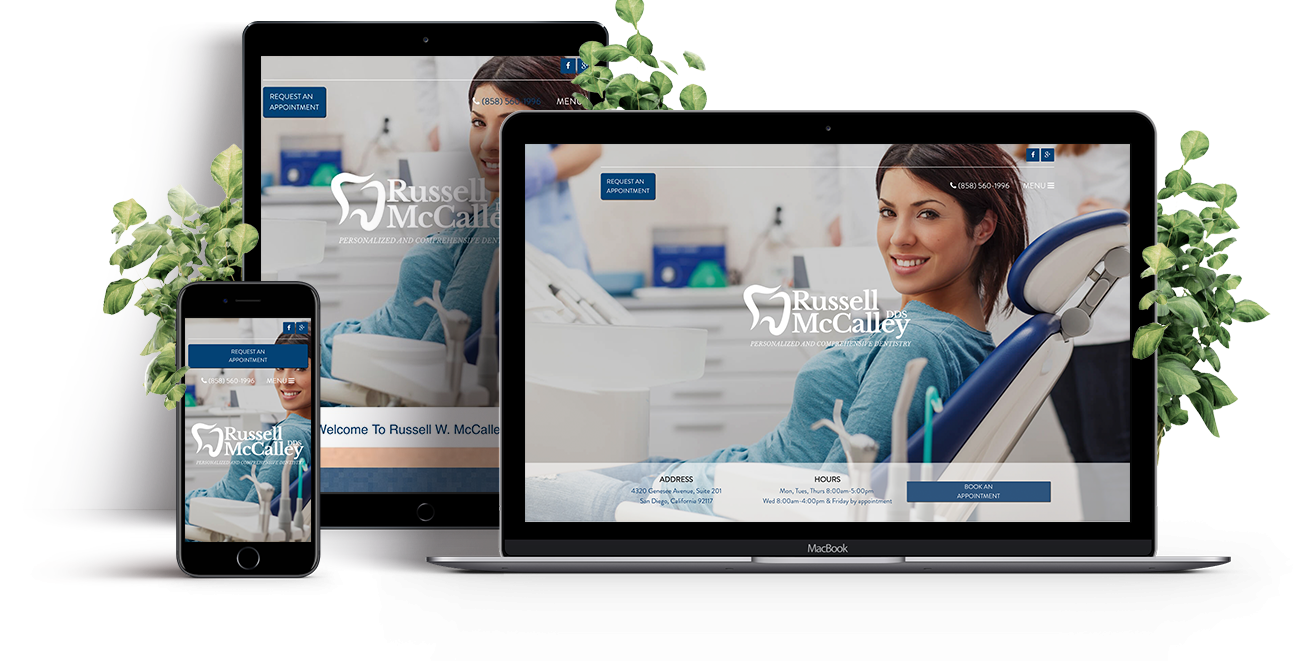 Cover All Aspects Of Your Clinic's Online Presence
This is just a small slice of what we offer.
Web Development

We create professional and great looking websites that enhance your patient's experience.

Social Management

We manage all your social media to help grow your practice. Social Media made easy and effective.

Mobile Integration

Seamlessly adapt your hospital to the mobile web and reach more people.

Online Reviews

Never worry about your clinic's reputation again with our powerful review management.

Local SEO

Reach people in specific communities and attract new patients.

Content Creation

From patient education to hospital news, creating new content is fast and easy.

E-mail Marketing

Use email marketing to connect with your patients directly through their inbox.

Analytics

Shows you visitor activity across websites, tablets, and smartphones.
24/7 Support for Your Practice
You will be amazed by our customer service.
Unparalleled Level of
Customer Support

You get an unparalleled level of customer support from Doctor Multimedia. We are available 24 hours a day, 7 days a week for anything you might need. Feel free to call us any time of day and you will speak with a real person, you will never get a recording or automated system.

Always Available And
Responsive

We pride ourselves in always being available and responsive to your needs. The highest level of customer service is our promise to you, and we know you will be amazed by how easy and productive it is to communicate with us.

Clients Are Our Highest
Priority

Our relationship with our clients is our highest priority. We want you to feel like you have complete control over your web presence, and that's what our client support strives to give you. No problem, question, or concern is too small, we will always be there to discuss anything and everything regarding your practice.
What our customers are saying
Our client response speaks for itself. Read about their experience with us.
I just wanted to let you know how impressed I am with your services.

The website is awesome and the reviews and response that has generated has been incredible. In a couple weeks we have more reviews that anyone in our metropolitan area.

The website will help generate sales in our online store. The investment in these two services will pay for themselves many times over. Thank you

Steve Pope DVM, Pope Animal Hospital

I'm so happy with the work Doctor Multimedia has done for my practice.

When you see the results, you'll realize what a great option they are for all things internet and marketing related. It's a no-brainer for any doctor.

Celina Hatt, DVM Animal House Veterinary Center, Ewa Beach, HI

We get more than half of our new clients from Google, and that is almost entirely thanks to Doctor Multimedia.

Doctor Multimedia has fully redesigned and developed our website. They also assist us with all of our SEO [search engine optimization] and Google work. In addition, they handle our more traditional forms of advertising by creating a monthly flyer for us as well as handling all of our email marketing.

Director of Administration, Veterinary Clinic, Veterinary Clinic
About Us
We're a team of energetic, young professionals that share a love for dogs, beaches, sunshine, and digital marketing. Based in beautiful San Diego, with offices just minutes away from Scripps Memorial Hospital in La Jolla, we spend each day helping doctors build and grow their practices online.
We're successful for one simple reason: no one can outwork us. At most, they can do the same, but they can't do more. We're open 24 hours a day, 7 days a week, 365 days a year. We do it out of passion, and because that's when our clients need help. We do it because your website doesn't stop working and neither do we. We do it because we've intertwined work and life in a way that we never want to stop.
Read More
Our Story
We grew up around doctors. We grew up with the internet. And now we make a living helping doctors with the internet.
The three founders of Doctor Multimedia grew up surrounded by doctors. Our parents were doctors, their friends were doctors, our friends became doctors. There was no escaping talks of medical school or residency.
Read More
News & Articles
Read The Latest In Online Marketing
Get In Touch
You will be amazed by our customer service.